TIPO DE BECA
CODIGO
PAIS
LUGAR
ACTIVIDAD
INICIA
TERMINA
Corto plazo
Senior

DE-SCI 1.32
ALEMANIA
Dachau near Munich
Study, discussion, research
29/07/2023
11/08/2023
---
Never forget! (Dachau near Munich)
Camp code:
DE-SCI 1.32
Country:
Germany
Start Date:
29 Jul 2023
End Date:
11 Aug 2023
Topic:
1: Antiracism, antifascism, remembrance
Options:
Wheelchair Accessible
Work Types:
Study, discussion, research
Number of volunteers:
8
International age:
18 - 26
National age:
16 - 26
Extra fee to be paid in the hosting country:
220.00 Euro [4348 Mexican Peso]
Breakdown:
Accommodation and food: 0.00 Euro
Transportation: 0.00 Euro
Activities: 0.00 Euro
Hosting organisation support: 220 Euro
Required Language:
English
Motivation letter:
This camp requires an additional motivation letter to explain in more detail why you would like to attend. Further information or a form to complete is available here: https://www.sci-d.de/file/132dachaumotivationletterdocx-1open_in_new.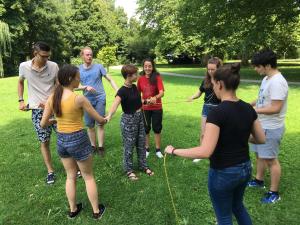 Description: 8 Volunteers: Every summer since 1983, Dachau has hosted an international youth exchange with around 100 young people from over 20 countries. You can find more information about the camp here: http://www.jugendbegegnung-dachau.de/ In 1933, Heinrich Himmler opened one of the first Nazi concentration camps in Dachau. During the Second World War, the prison conditions deteriorated more and more because the camp was completely overcrowded and the prisoners were provided with less and less food, but had to do forced labor for the armaments industry. In total, more than 206,000 people were imprisoned there, of whom about 41,500 did not survive.
Type of Work: As part of this meeting, the SCI volunteers take part in various workshops with questions on the history of the Dachau concentration camp and National Socialism, and also make references to current developments. The focus is on the study part, but there are also excursions, trips and parties.
Study Theme: National Socialism and the concentration camp in Dachau; workshops within the framework of the IYM; tours of the memorial site; excursions, lectures.
Accommodation: In the youth hostel in Dachau (4-bed rooms); wheelchair-friendly rooms are available.
Language: English.
Requirements: Interest in the topic, sufficient knowledge of English to participate actively in the program.
Notes: Volunteers will have to pay an extra fee of € 220,00 upon arrival. Age limit! Volunteers shall not be older than 26! INCOMING FEE for volunteers applying via partner organisations and contacts of SCI: https://sci-d.de/incomingfee Covid-19: Please note that you either must be fully vaccinated or bring an PCR-test. You will be tested again after your arrival. If you get sick you must leave the Youth Meeting on your own expenses to protect the other participants.
Organization Description: This workcamp is organized by the German branch of Service Civil International (SCI). SCI Germany was founded in 1946 and is approved as a non-profit organisation. We are one of the oldest peace and volunteer organisations. SCI Germany aims to promote peace, non-violence, international solidarity, social justice, sustainable development and cross-cultural exchange through international voluntary work. We cooperate with a network of branches and partners in more than 90 countries. Every year, SCI Germany organizes about 50 international workcamps in Germany.